A WINDOW CLEANER IN SCOTTSDALE | PHOENIX | TEMPE METRO AREAS?
Professional window cleaning is more than just removing dirt and webs from dirty windows. A commercial window cleaner is experienced and trained to know glass and the best way to clean them. A good window cleaner can proficiently leave a streak-free window without any spotting or dripping water on the windows. Our professional cleaners can identify issues with glass and assist with restoring the glass back to like-new condition. Here at Clean D Window Cleaning our field service representatives are proficient in all aspects of window cleaning and maintenance. In addition to window cleaning, our abilities include calcium removal from windows, scratch removal, and window restoration, as well as window leak repair for water intrusion through window seals and weatherstripping.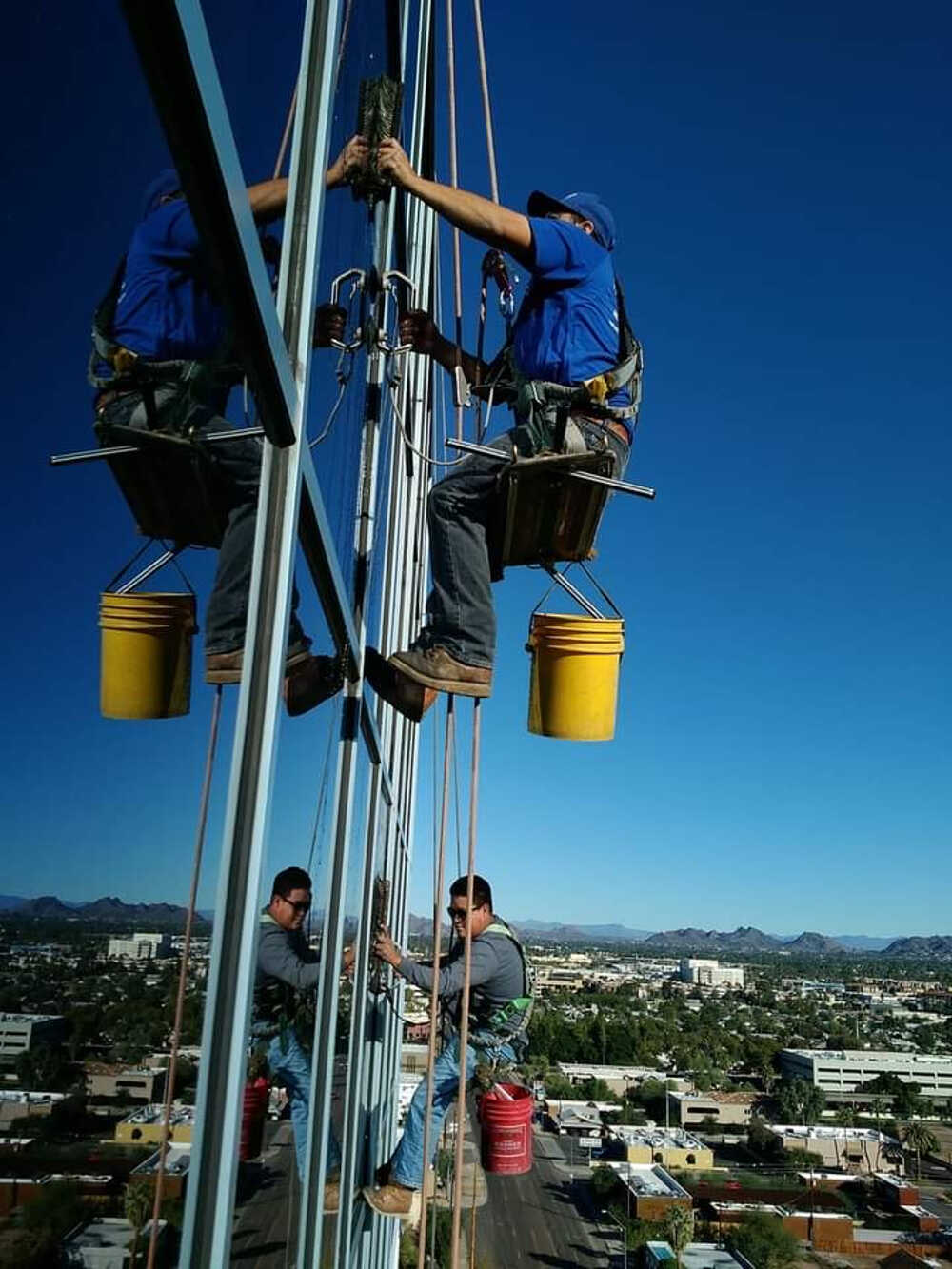 Safety is our highest priority during our window cleaning services. If you have a large or multi-story building, it simply is not safe to have an untrained, inexperienced person washing the windows. A professional service is licensed, insured, and staffed by experienced window washers.
Window cleaning service cost can vary from window to window. The location of the window and the means that it will take to perform proper cleaning is the first consideration when providing a cleaning estimate. Will any equipment be used to access the window for cleaning? If so, there could be rental charges added to the bill. After deciding the plan of service for a job site, a time study to determine the amount of labor will be the last deciding factor. We want to make sure we estimate enough time for the cleaners to do a thorough job when performing the window cleaning maintenance. Ground floor window washing generally charges anywhere from $0.50-$1.00 per pane per side. 2nd and 3rd-floor windows can go from $2.00 to $5.00 between using a pole or ladder to clean the windows and frames. Commercial cleaning services are typically slightly cheaper than residential cleaning services. This is mainly because window volume on commercial jobs is more than residential properties. Also, the attention to detail is a little greater on commercial jobs vs. residential jobs.
WINDOW CLEANING TOOLS & WINDOW CLEANING ACCESS TECHNIQUES
Today's building structures and designs include a lot of windows. The good window cleaning company will have an arsenal of tools to clean windows. Below you will find some basic terminology and tools a commercial cleaning company might use during service. First thing when evaluating a cleaning proposal, we need to determine how we are going to access the windows for washing.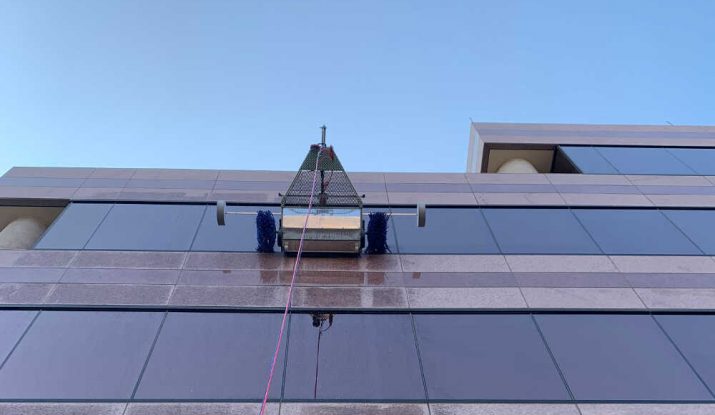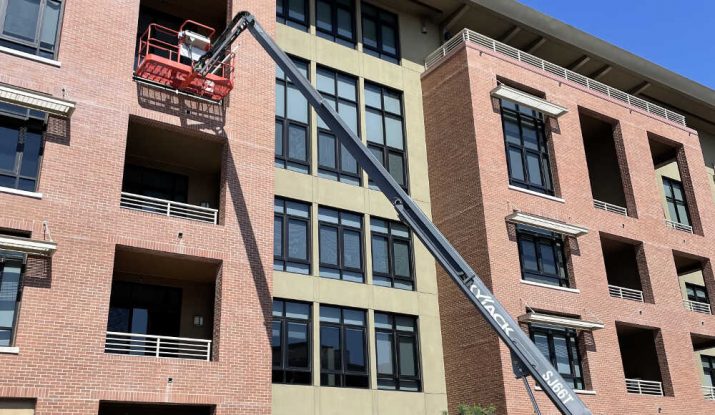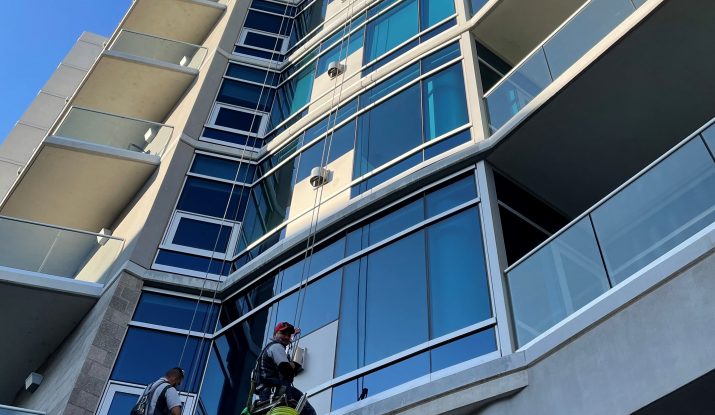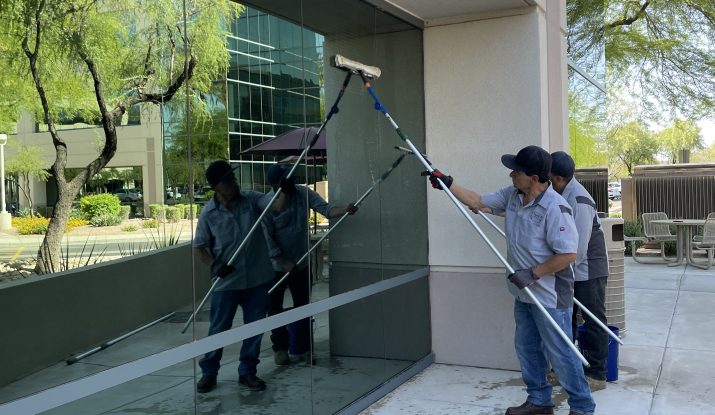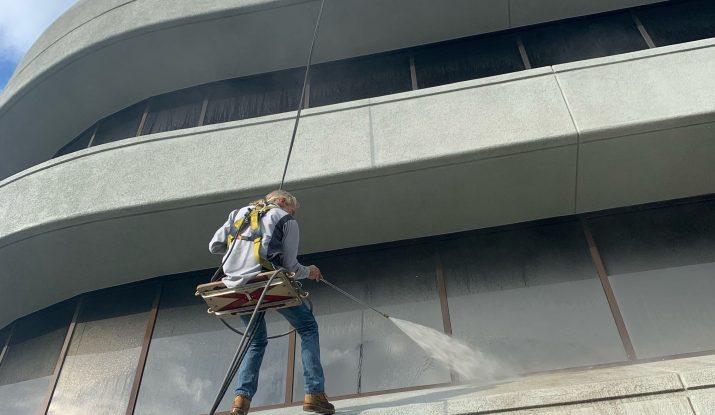 Rope Descent Systems (RDS) – Use of rope, bosun chair, and PPE to gain access to building facades while performing exterior building cleaning service.
Swing Stage – Gain access to building façade by use of building-owned rigs, BMU (Building Maintenance Unit), or our in-house modular stage to perform maintenance activities at elevation. We can also bring an external suspension system to use our swing stage for accessing different levels of the building.
Poles – Using poles to clean windows from ground level up to three-stories helping eliminate the use of ladders for additional safety and efficiency.
Water Fed Pole – Clean D Windows uses a 3-stage filtration system to clean water through poles and out of the brush to clean windows and frames from the ground up to 5 floors. Pure water-fed pole cleaning technology delivers pure water for window cleaning leaving shiny windows and rinsed off mullions. Using pure water is positively charged to bring particles together and run off the window during cleaning and rinsing.
Mid Rise Window Cleaning Machine – Using our 3 stage water filtration system to clean the water and rinse the windows. A brush ranging from 4ft-7ft provides a cleaning path that is scrubbed by the machine and rinsed thoroughly with purified water rinsing windows down with an overhead spray bar. The equipment ascends and descends from a mechanical motor mounted on an outrigger at roof level.
HOW DO PROFESSIONALS CLEAN WINDOWS WITHOUT STREAKS?
Wash your windows like the pro's do!
Wash your windows the fastest way with crystal clear, streak-free results. Once you begin washing windows with a squeegee, you will never go back to a spray bottle and paper towels. Squeegees get your glass clear and streak free in a fraction of the time it takes with paper towels. The squeegee blade removes all dirt and residue from the windows leaving behind a shiny clean piece of glass.
The basic window washing equipment you need will be a squeegee, dish soap and a wetting applicator such as a T-bar and mop cover. Home Depot now carries a line of professional window cleaning tools to purchase. The whole setup is inexpensive and will last many years. In addition to a 12″ to 18″ squeegee channel , the basic window washing equipment includes a scrubber, a bucket (a 5-gallon plastic bucket will work), dish washing liquid and a few lint-free rags or small towels. Keep your squeegee fitted with a sharp, new rubber blade.
(Pro tip – having a sharp squeegee blade will prevent streaking the windows)
Follow these simple steps for fast, clear results when cleaning windows. Get a bucket and put about 3 gallons of water in the bucket. Squirting about 2 tablespoons per gallon should give you a good solution to begin washing. Get your rag or t-handle with a mop cover wet and begin to agitate the window making sure you scrub all areas of the glass. Take your squeegee and begin the motions of cleaning the windows. Beginners should either drag the squeegee from one side of the window to the other or from the top to the bottom. Take your lint free towel and wipe around the seals, removing the remaining water to prevent water dripping down. It might take a few times to get the hang of it.
(Pro tip – too much soap will cause a lot of bubbles which will make the window dry faster and could leave streaks).
Pros change their squeegee blades as often as once a day. That's because you just can't do a good job if the edge of the blade becomes nicked, sliced or rounded over with use. If your squeegee leaves streaks or just isn't performing like new, don't hesitate to replace the blade. You can get a little more mileage out of blades that aren't nicked or sliced by simply reversing them in the channel to expose a fresh edge on the other side.
(Pro tip – On average, window washers clean about 400 to 600 windows per day).
Serving The Entire Phoenix Metro Area
SPECIAL AWARDS AND RECOGNITION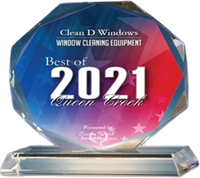 Queen Creek, AZ Award
2021 Best of Queen Creek Award in the Window Cleaning Equipment category.
Tempe, AZ Award
TOP WINDOW CLEANER IN TEMPE! We are excited to announce we have been listed as one of the top 3 window cleaners in Tempe, Arizona.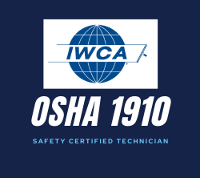 OSHA 1910 Certification
Clean D is OSHA 1910 Certified.
COMMERCIAL WINDOW WASHING INSURANCE AND CUSTOMERS
During our tenure, we have come across all different levels of insurance requirements. Window cleaning insurance is broken into 2 types of insurance; "boots on the ground" (code 9014) and "above 3 floors" (code 9170). This is the fundamental question that differentiates the two types of cleaners. If there is an incident on your property and your contractor is not covered, you want to make sure your contractor is covered for the scope of work.
Hire a window cleaning company that carries enough liability insurance for building ownership. Clean D Window Cleaning carries more insurance than any other window cleaning vendors and can accommodate any requirement you may have with an A-rated carrier.
Current Insurance Limits:
$2M Commercial General Liability | $1M Full Auto | $1M Employer Liability | $6M Commercial Umbrella | $2M Workers Compensation | A +7 coverage by a preferred carrier for High Rise Window Cleaning & Construction Operations (9170)
Clean D Window Cleaning has worked with customers including;
Government Building Services | Hospitals & Medical Facilities Maintenance | High Rise Building Cleaning & Tall Towers Exterior Cleaning | Commercial & Retail Properties Service Provider | Post New Construction Building Cleaners | Business & Building Owners | Schools & Universities Cleaning | Home Owners Associations and Communities
WHY CHOOSE OUR WINDOW CLEANING SERVICE FOR YOUR PROPERTY - CLEAN D WINDOW CLEANING
Ensure that your commercial property is always clean and safe for clients and visitors with the help of Clean D Window Cleaning. Our many years of experience, commitment to high-quality service, and 100% satisfaction guarantee are just a few of the many reasons why you should consider Clean D Windows as your preferred window cleaning company. We would be happy to provide you monthly, bi-monthly, quarterly, or yearly maintenance plans to keep your windows sparkling clean on a regular basis.
As mentioned throughout the site, we are here to help with more than just washing windows. We are your expert resource and can help you solve the most complex issues. We are not the cheapest company out there, but the value received from our company will exceed the price to perform services at your location.
Clean D Window Cleaning is a company you can trust on the ground and in the air! We are Arizona's trusted commercial window cleaning contractor.