Has the aftermath of a new construction venture or remodeling project left your property in chaos? Clean D Window Cleaning is here to help, as we are competent and thorough in making sure your after construction cleaning needs are met on time.
Clean D will remove construction debris efficiently without causing any damage to windows or mullions. You can count on our expertise to properly clean your project on time and within budget. Trained in the safest ways to remove debris from your finished products.
Glass restoration
Scratch repair to windows and mirrored surfaces
No construction project too large
Reliable on time cleaning
Trained in OSHA safety procedures
Post Construction Window Cleaning Expert
What is Post Construction Exterior Cleaning?
Our post-construction cleanup solutions help contractors perform a rough and final clean-up to remove any debris, dust, concrete, adhesive, and other substances that are left over after a construction project. We provide window washing and pressure washing to all construction properties. Have scratched glass? We can repair that too.
What is Construction Cleaning?
Duties can include cleaning windows inside and out, cleaning the frame and mullion system once the project has been completed. This is a point in the project when the building is almost ready to be turned over to ownership and many times a fast-paced environment.
Clean D Window Cleaning can clean up construction sites of all sizes! Either you're finishing up building on a new property or renovating an existing property – Clean D Window Cleaning is here to help! If you have questions about our post-construction cleaning solutions or want a free quote, contact us today!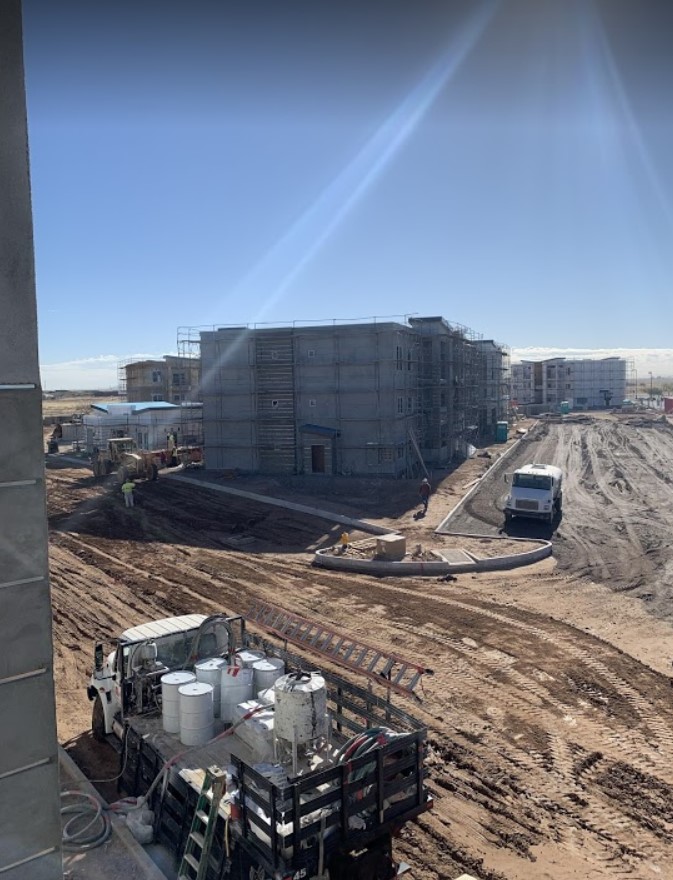 KNOWLEDGEABLE CONSTRUCTION EXTERIOR WASHING CONTRACTOR
Professional contractors understand the importance of providing the customer with a completely clean, and polished clean construction job. Regardless if it's a new building, an interior build-out, or a remodel job, Clean D Window Cleaning is ready to take on the job! Once we are completed, the property will be ready for regular ongoing maintenance.
Construction cleaning is about providing efficient and quality cleaning services for general contractors and owners. We've found that being experienced, responsive, and reliable are the keys to excellence in the construction cleaning industry.
Rough Construction Clean Up
Final Building Site Clean Up
Exterior Power Washing
Parking Garage Power Washing
Commercial Building Site Clean Up
Glass Restoration & Scratch Repair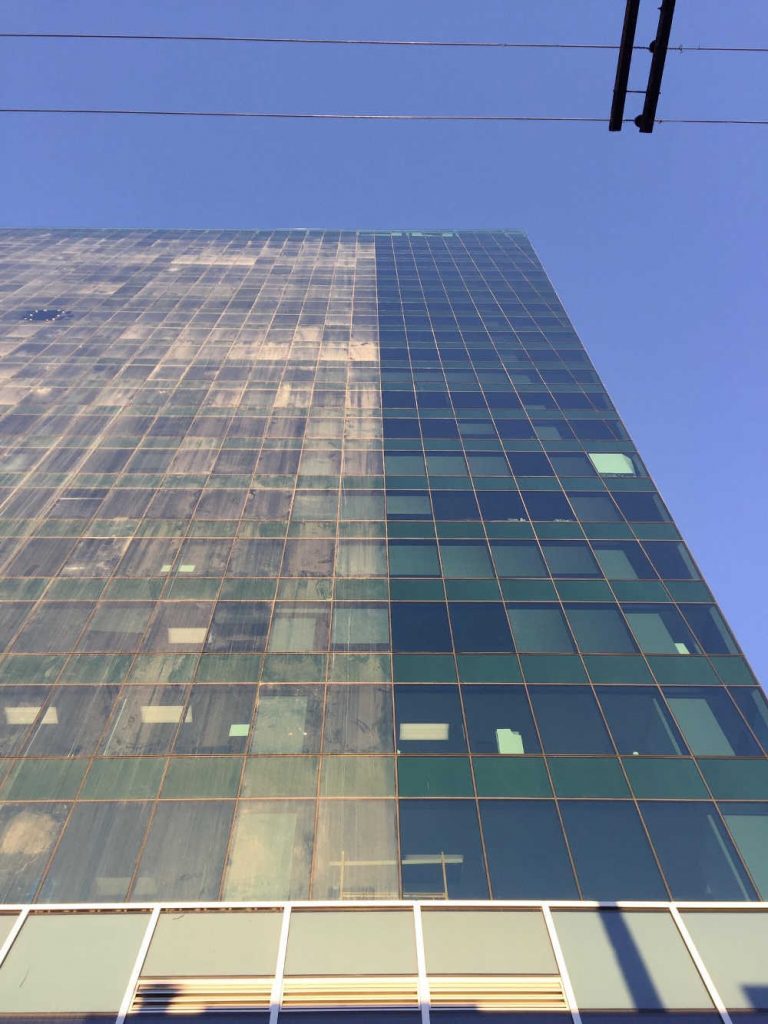 POST CONSTRUCTION WINDOW CLEANING IN PHOENIX, TEMPE, SCOTTSDALE, MESA, TUCSON
Clean D Window Cleaning has worked with companies including;
McCarthy Cook & Company l UEB Builders l P3 Construction Services l Sunstate l Okland Construction l The Sundt Companies l PB Bell l Whiting-Turner l The Ryan Companies l Westpac and More
Whether you are building a small drive-through restaurant or a high-rise building, our staff of professional construction clean-up crew is equipped with the materials, processes, and equipment to complete your job on time and within budget. Looking for a quality post-construction cleaning service? Request an estimate below!
HOW DO YOU PERFORM A CONSTRUCTION CLEAN UP ON WINDOWS?
When a new building is developed, all sorts of materials and debris can be found on the glass from sealant, paint, dry wall, mortar and concrete or stickers can be found all over the windows and frames. How do you remove construction materials from glass? Well, cleaning these surfaces requires patients and an eye for details. Many construction cleaning companies might use a product like Goof Off which is a cleaner with an acidic base that helps break down the material that can be wiped off. Whenever using any type of cleaning agent, you should test an area to make sure damage does not result from the compound. This can get on other finished surfaces, and for this reason we do not suggest using this treatment.
You also need to inspect the windows for manufacturing defects. When windows are manufactured, the glass is stood up in a vertical position. Glass manufacturing centers are full of dust and debris floating around and when contact is made on the glass during the drying phase, a visible bubble will appear on the finished product. During removal of post construction debris, these bubbles can break leaving an unwanted blemish behind. Cleaning contractors should consult with the general contractor and a waiver of liability should be signed protecting the cleaning company from liability in the event of these types of manufacturing defects.
Another consideration is using blades to remove debris. Large blades like 4″ or 6″ blades are nice because it leaves a larger cleaning path. The downside to this is that if the blade gets nicked or broken, scratching can happen. Metal is harder than glass, so a smaller 1″ razor blade is preferred for heavier debris removal. The best way to remove stubborn debris from windows and frames would be steel wool (#0000). This method will not scratch glass or frames and will polish the window at the same time. You can use this method on a dry or wet window. When training a cleaner, have them use a plastic blade first instead of a metal razor blade. It will take more time to remove, but is much safer and cheaper than having to replace scratched windows. These are a few cleaning tips that will help you complete the cleaning without causing damage to finished products.