FACILITY CLEANING EXPERTS AND BUILDING MAINTENANCE
There are many commonly asked window cleaning questions that only a true expert could answer properly. Within our company, we have many years of experience cleaning windows from commercial properties to high-rise buildings to newly done construction buildings. Clean D Window Cleaning has been cleaning windows for 15+ years. Our team knows how to get windows streak-free, without smears, and what tools and tricks are necessary to get your windows looking brand new!
Therefore, our team of experts has compiled a list of window cleaning questions from our customers. Below are a few questions, and our professional recommendations.
Have a question that is not answered here? Shoot us a message and we would be happy to answer all your questions!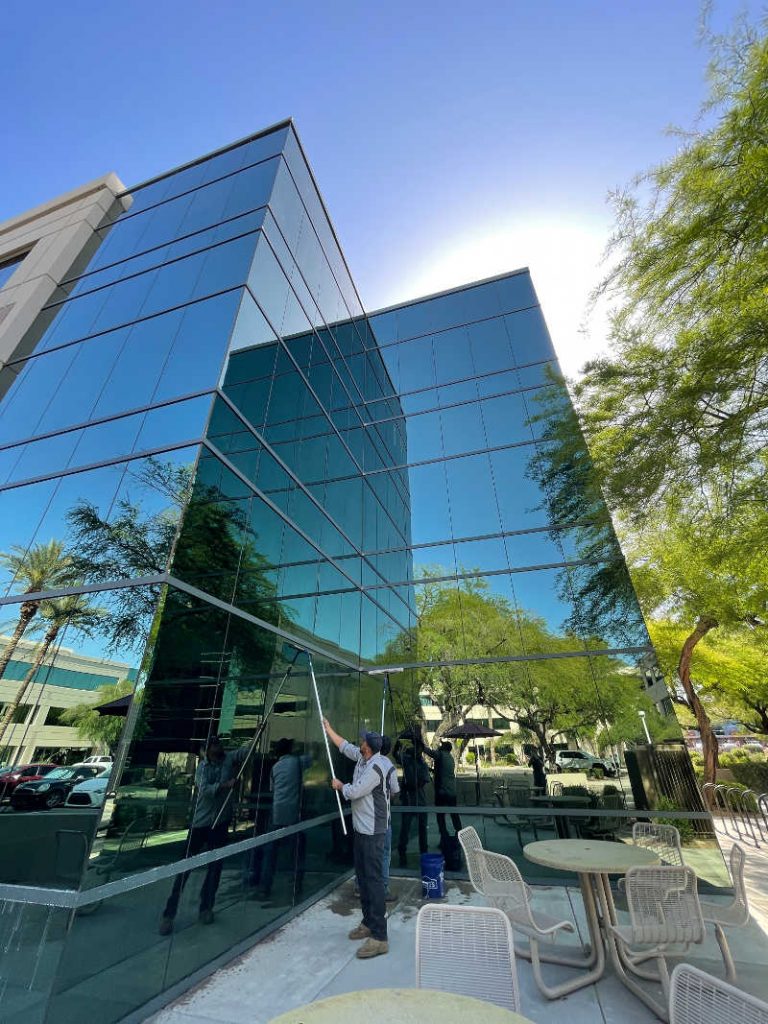 BENEFITS OF COMMERCIAL WINDOW CLEANING
Commercial Window Cleaning in AZ
A clean workplace is essential for productivity, health, and success! Clean D Window Cleaning and Power Washing located in Tempe, AZ is one of the area's most trusted by residential and commercial window cleaning companies. Here, our staff explains some of the ways commercial window cleaning can benefit your business.
Five Ways Commercial Window Cleaning Benefits Your Business:
1. Health – A clean office is essential to preserving employees' health. They will feel better in a clean environment and, thus, will be more productive. Cleanliness is especially pertinent for staff members with allergies or asthma; they could have reactions to dust or other debris circulating in the air.
2. Productivity – Window cleaning can be a time-consuming, difficult task. If an employee has to do it, they won't have as much time or energy to perform their regular work. A commercial window cleaning technician can get the job done quickly and efficiently, allowing your employees to remain focused and productive.
3. Safety – Commercial window cleaning specialists have the proper training and equipment to do the job safely. The risk is too high to allow non-professionals to attempt window cleaning on high-rises or other tall structures. Professional window cleaners know what precautionary measures to take to prevent accidents.
4. Positive Image – Curb appeal can make all the difference when it comes to impressing a prospective new associate, employee, or customer. A dirty office can signify poor business practices, while a clean, bright office suggests a sophisticated, detail-oriented business. A commercial window cleaner will ensure your windows are spotless and streak-free, so you'll always be able to make a stellar first impression.
5. Building Maintenance – Property maintenance is crucial, especially if you're leasing. A commercial window cleaner will make sure the windows are always cleaned up to par with lease requirements. A professional cleaner is also more likely to notice signs of damage or deterioration. If the commercial window cleaner does see any evidence of disrepair, he or she will be able to notify you promptly so you can repair the issue before it worsens.
For professional residential and commercial window cleaning in the Phoenix, Tempe, or Scottsdale, Arizona area, call the professionals at Clean D Window Cleaning. We also offer an array of additional services, including pressure washing and roof treatments.
Call now for a totally FREE, no obligation quote at, (480) 557-6219
We safely clean windows year round
All work 100% guaranteed
Fully insured
Locally Owned and Operated
FREQUENTLY ASKED QUESTIONS & ANSWERS - PROFESSIONAL CLEANING TIPS