HIGH-RISE EXTERIOR CLEANING SOLUTIONS
Perform interior and exterior window cleaning for high rise buildings. IWCA high rise specialist for Rope Descent and Swing Stage Scaffolding
Added privacy and full building wash with our automated mid rise window cleaning machine that cleans windows up to 15 floors.
PRESSURE & POWER WASHING FOR HIGH RISE PROPERTIES
Remove dirt and grime from building exteriors and other hard surfaces using commercial grade trailer mounted pressure washers.
SUSPENSION SYSTEM INSTALLATION & INSPECTIONS
Perform inspections, certification and installation of anchors, davits and rail systems for exterior building maintenance.
HIGH RISE WINDOW WASHING SOLUTIONS
Our cleaners are a skilled group of professional window washers with in depth knowledge of high rise rigging and access. We are proficient and trained in the safe use of swing stages, building maintenance units – bmu's, rope and bosun chair – RDS, and aerial equipment.
All staff properly trained on fall protection for window cleaning, OSHA 10 hr, Scissor Lift & Boom truck certified and IWCA High Rise Specialist certified
High rise access specialists use a variety support equipment including 7/16″-1/2″ static kernmantle rope, harness, seatboard, descender, rope grab and parapet protection.
HIGH RISE WINDOW CLEANING MACHINE
We are excited to bring to market a high rise window cleaning machine to Phoenix. Using purified water and technology from the car wash industry, we can provide an even safer and cost effective cleaning process.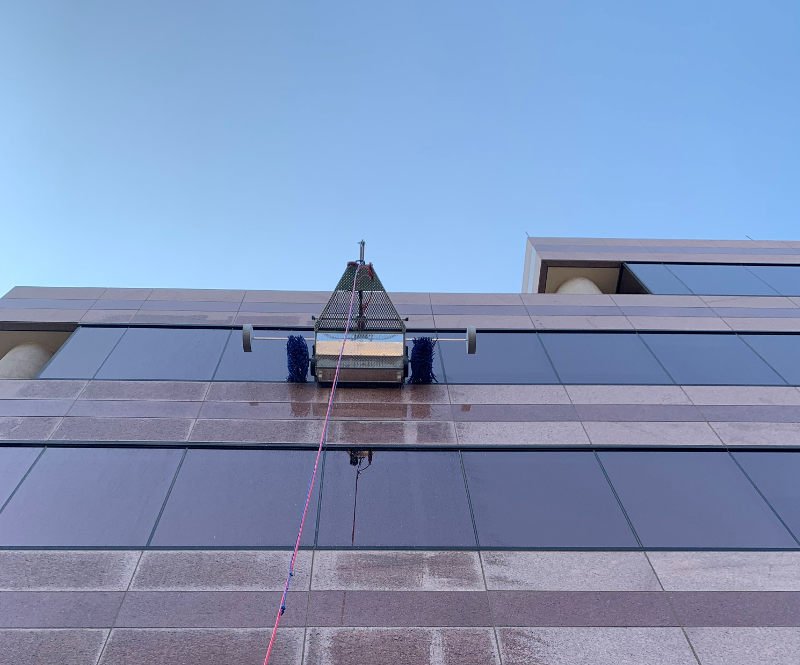 Performs detailed cleaning of windows and frames up to 15 floors. This equipment weighs 160 lbs and can clean between 4-7 footpaths at 30 ft per minute.
Adds privacy to building occupants
Provides a safer means to cleaning high windows
Cleans windows faster than traditional window cleaning
It's just cool!
This system is self-contained with a rotating brush to agitate windows. Equipped with a rinse bar with 6 spray nozzles to provide purified rinse water for cleaning. This unit runs from a counter-weighted support system easily transported to the roof with a motorized winch attached. The unit also is upgraded with a speed control dial allowing us to adjust to the proper speed of cleaning based on different building designs. Not suitable for roofs with parapets taller than 6 feet.
PRESSURE & POWER WASHING HIGH RISE BUILDINGS
Need to rinse off dirt and debris from the exterior of your building? We can leave behind a beautiful new looking structure after pressure washing all the dirt and grime away. For metal surfaces, we can use purified water so no staining is left behind!
Other hard surfaces to power wash:
Concrete Walkways, Break Areas & Building Monuments
Exterior Building Rinse
Roof Cleaning & Gutters Debris Removal
Garbage Chute Cleaning & Dumpster Pad Washing
SUSPENSION SYSTEM INSTALLATION & INSPECTION
Providing install, inspections and certification of building exterior fall protection systems. These components need to be installed by following OSHA fall protection guidelines found in the CFR's.
Installation of davits and anchors
Annual Inspections
Rail system maintenance
Call us today for an onsite assessment and evaluation (480) 557-6219
WHAT TO KNOW IF YOU'RE GOING TO CLEAN HIGH RISE WINDOWS
High rise buildings require a lot of care to look so professional and clean. Many man hours of skilled labor go into maintaining clean windows and a clean welcoming facility.
Glass building materials have become very popular in new building design. There are a variety of glass used on skyscrapers. Tempered glass is the most common type of windows that are found on low to high rise buildings. Those windows don't stay sparkling on their own. Rain, pollution, overspray, dust, debris and bird droppings cover the windows over a period of time and need to be cleaned to maintain a clear and clean window. Surface corrosion will start on glass surfaces if left unclean, and the Arizona sun only makes it worse. Fortunately, window cleaners are on the job to get them pristine and shiny once more.
HIGH-RISE WINDOW-CLEANING FAQS
HIGH-RISE WINDOW-CLEANING EQUIPMENT
High-rise window cleaning requires a number of different pieces of equipment,
some for cleaning and some for climbing and safety.
WINDOW CLEANING AND CLIMBING TOOLS
Skyscraper window cleaners typically use the following cleaning tools in their work:
Bucket: The bucket of a skyscraper window cleaner usually contains water mixed with dish soap or hand soap. There are some additives you can add to make cleaning easier, but not required.
Glass scraper: The glass scraper is useful for removing construction materials or other debris from the windows.
Brush, Sponge or T-bar wand: Window cleaners use these tools for wetting the window with soapy water.
Squeegee of Different Sizes: Depending on the size of the window a cleaner might have a few squeegees. A sharp rubber will ensure that all the dirt and water is removed from the window.
Rags or towels: Rags and towels are useful for doing a quick final polish.
Spare blades: The metal and rubber blades of the scraper and squeegee wear down over time, so it's helpful to have some spares on hand.
Tool belt: A tool belt lets window cleaners have all the necessary tools within reach while keeping their hands free.
Skyscraper window cleaners also use tools to navigate the exterior of the building, like:
Movable platform: Much like the fixed scaffolds used for shorter buildings, a high rise window cleaning platform gives the window cleaner a stable place to stand while cleaning high-rise windows. But with a movable platform, when it's time to move down to the next floor, a pulley of ropes lowers the platform.
Bosun's chair: If window cleaners are not standing on a movable platform, they typically use a bosun's chair. The bosun's chair takes its name from seafaring. On a ship, the bosun, or boatswain, is the officer in charge of the crew and equipment, and a bosun's chair is a harness-like rope contraption that can suspend the bosun aloft to work on the ship's masts or rigging. In window cleaning, a bosun's chair is a small platform attached to a pulley that can lower it when the cleaner needs to descend to the next floor. Window cleaners can often suspend their buckets from hooks on the bottom of the bosun's chair, as well.
Since window cleaners' safety is paramount, skyscraper window cleaners use different safety tools as well, including:
Safety belt or harness: A window cleaner safety belt or harness is critical for window cleaners who are working on a platform. If the platform falls, the safety harness, which hooks to the building, ensures the window cleaner remains securely suspended in the air.
Protective gloves: Window cleaning is a messy business, and rain and snow make it messier. Protective gloves are must-have items, especially in the winter when wet hands can quickly freeze. Cold hands can lead to frostbite, and they also make the window climber less nimble and safe.
SKYSCRAPER WINDOW-CLEANING FACTS AND STATISTICS
Here are some high-rise window-cleaning statistics and fun facts:
Statistically speaking, high-rise window cleaning is safer than driving a cab.
Window cleaning can be silent work. According to one report, when window cleaners are above about the fortieth floor, the usual city sounds of voices and traffic disappear entirely.
Wind makes window cleaners' jobs much more difficult. For safety reasons, window cleaners have to get off their scaffolding or platforms if the wind speed exceeds 25 miles per hour. Even winds of 15 miles per hour can cause serious difficulties.
Window cleaners use cool or lukewarm water — in the winter, hot water could break the glass.
If the windows of a skyscraper open, they will probably require more frequent cleaning because people on higher floors may dump out food products that stain the windows below. According to one report, this frequently happens at the Empire State Building, where occupants of higher floors have been known to dump out everything from coffee to gallons of strawberry preserves — the latter of which covered ten stories of windows and froze solid.
CONTACT CLEAN D WINDOWS FOR
HIGH-RISE WINDOW CLEANING
The appearance of your building and windows reflects directly on the quality of your business. To keep your high-rise windows sparkling like new, contact PSI. Our high standards of safety, excellence and care make us one of the top high-rise specialists in the entire mid-Atlantic.