BEST HOME OWNERS ASSOCIATION
WINDOW CLEANING COMPANY | TOP RATED FOR HOA SERVICES
Clean D Window Cleaning is Arizona's top-rated window cleaning company! With our five-star rating, you can rest assured that you are in good hands when you hire our cleaning crew. Our available window cleaning and power washing service packages are:
One time
Annual
Biannual
Quarterly
Monthly
Custom Schedule
HOA Window Cleaning Services:
Exterior Window Cleaning
Interior Window Cleaning
Hard Water Stain Removal
Glass Scratch Repair
Screen Cleaning
Calcium Removal
Patio Glass Cleaning
Leasing Office Window Cleaning
Amenity Window Cleaning
Power Washing
Clean D Window Cleaning has worked with companies including;
CCMC l FirstService Residential l Brown Community Management l City Property Management l All Property Management l Heywood Management l Vision Management l 360 Property Management l Associated Property Management l Kinney Management l Associated Asset Management
HOA WINDOW CLEANING SERVICES
Have you ever thought of using an HOA window cleaning company? It is a great idea and it is far more cost-effective than you might initially think. When you begin adding up the cost of ladders (and the risk of falling that goes with it), the cost of squeegees, chemicals, and your precious time, professional window cleaning services begin to look a whole lot better.
Clean D Window Cleaning provides a superior window cleaning service to all our Homeowners Association (HOA) partners across the Arizona valley. Building long-lasting relationships with homeowners with a friendly service that you can count on for all your tower, apartment, condo, community center, and amenity cleaning.
Did you know we offer our services to homeowners for a discounted price? As Arizona's best window cleaning contractor our crew brings a high level of quality for your homeowners so they can enjoy the beautiful views of Arizona.
Interested in getting your residential home cleaned? Contact our residential division – Dirty Boys Window Cleaning & Power Washing
BENEFITS OF HIRING WINDOW CLEANERS
Customer service-oriented staff trained to interact with homeowners with a friendly, positive attitude. We will coordinate directly with homeowners to schedule visits and payment for cleaning services while on-site cleaning the community.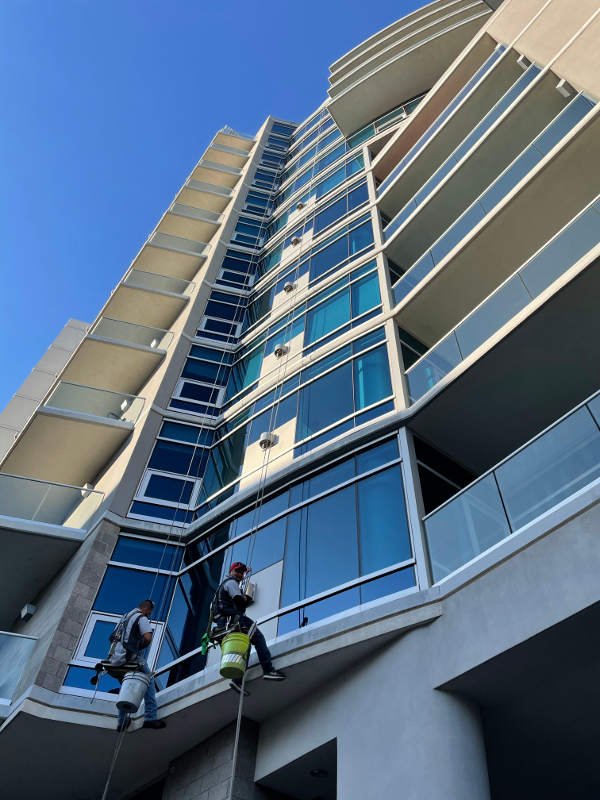 Apartments
Condos
Towers
Community Centers
Amenity Cleaning
Leasing Offices
Power Washing
Whether your property is large or small, a professional window cleaning company is the right solution to keep your HOA building in excellent condition for year after year of use. Hiring a proven professional like Clean D Window Cleaning, which has more than 15 years of experience in window cleaning, means one less headache for property managers to worry about. You don't need to concern yourself with whether or not your property is putting its best face forward because you'll know our experienced professionals are on the case.
WINDOW CLEANING IN THE PHOENIX AREA
Why should you hire a window cleaner for your HOA property?
On-time Friendly Professional Service

Best Quality, Price, and Customer Satisfaction

Unmatchable Customer Service

One-time Cleaning and Ongoing Services

Health and Safety Measures

15+ Years of Window Cleaning Experience

Locally Owned and Operated

Veteran Owned
The right HOA window cleaning service can have a critical role in your commercial property's success. HOA professional cleaning can be the difference between a property full of happy tenants with an investment in your property and that same property lying empty. This is why you can't rely on just any HOA window cleaning company!
Maintaining your HOA property improves its value and curb appeal. Regular window cleaning services ensure your property remains spotless and attractive for tenants, leaseholders, and business clients. Clean D Window Cleaning can help you maintain your HOA property, apartment complex, condominium tower, or other HOA property with our comprehensive window cleaning and pressure washing services.